010- Assessing Spinal Structure, Function and Intervention with Dr. Greg Kawchuk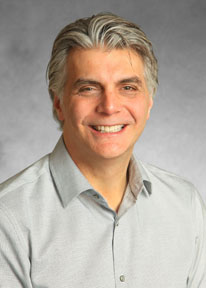 In this episode, we learn about Dr. Kawchuk's goal to develop new strategies and technologies for the prevention, diagnosis, and treatment of spinal disorders and back pain – the most common of all musculoskeletal health problems.  Greg Kawchuk, DC, PhD has research interests that focus on defining the mechanisms that initiate and sustain spinal disorders so that clinically relevant strategies can be developed toward their prevention or resolution. A major component of his research involves developing new technologies to assess spinal structure and function, then using those technologies to evaluate various clinical interventions.  Dr. Kawchuk is clinically trained as a chiropractor (Canadian Memorial Chiropractic College).  His academic training began in molecular, microbial and cellular biology (BSc, University of Calgary) and then progressed to biomechanics and bioengineering (MSc, PhD, University of Calgary). He completed postdoctoral work at the State University of New York and the University of Calgary, and then joined the Faculty of Kinesiology at the University of Calgary as an Assistant Professor with an additional clinical appointment in Student Health Services.  He was recruited by the University of Alberta in 2004 to join the Faculty of Rehabilitation Medicine as an Assistant Professor and the Canada Research Chair in Spinal Function. Dr. Kawchuk is currently Professor of Rehabilitation Medicine at the University of Alberta.
In March of 2016 Dr. Kawchuk was awarded the American Chiropractic Association (ACA) George B. McClelland, DC, Researcher of the Year Award, which recognizes an individual for developing, refining and/or expanding the body of knowledge in chiropractic.
 For a list of Dr. Kawchuk's scientific publications please click here.
Here is a list of the publications we discuss during this interview:
https://chiropracticscience.com/wp-content/uploads/2016/01/greg0483.jpg
288
206
Dean Smith, DC, PhD
https://chiropracticscience.com/wp-content/uploads/2017/01/chiroscience-logo-website-title-300x167.jpg
Dean Smith, DC, PhD
2016-04-04 19:22:35
2017-04-02 00:00:24
010- Assessing Spinal Structure, Function and Intervention with Dr. Greg Kawchuk