Back Pain During Pregnancy and Chiropractic Care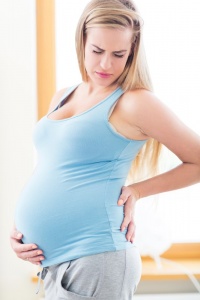 Low back pain is one of the most common and often disabling problems in pregnancy. The prevalence of pregnancy related low back pain (PLBP) or pelvic girdle pain (PGP) is 20% to 90% with most studies reporting more than 50% prevalence. —PGP is almost 2x more common than lumbar pain. —25% of all postpartum women suffer from PGP and/or PLBP.
A 2014 prospective, cohort, outcomes study involving 115 pregnant women with low back or pelvic pain participated in the study.  Baseline numerical rating scale (NRS) of pain intensity and Oswestry Low Back Pain Disability Index questionnaire data were collected.  In addition, The patient's global impression of change (PGIC) (primary outcome), NRS, and Oswestry data (secondary outcomes) were collected at 1 week, 1 and 3 months after the first treatment.  Then, at 6 months and 1 year the PGIC and NRS scores were collected again. PGIC responses of 'better' or 'much better' were categorized as 'improved'. Chiropractic treatment was pragmatic and left to the discretion of the treating clinician.
Results:
52% of 115 recruited patients 'improved' at 1 week, 70% at 1 month, 85% at 3 months, 90% at 6 months and 88% at 1 year.
There were significant reductions in NRS and Oswestry scores
Patients with more prior LBP episodes had higher 1 year NRS scores
Most pregnant patients with low back or pelvic pain undergoing chiropractic treatment reported clinically relevant improvement at all time points.
Reference: Peterson CK, Mühlemann D, Humphreys BK. Outcomes of pregnant patients with low back pain undergoing chiropractic treatment: a prospective cohort study with short term, medium term and 1 year follow up. Chiropr Man Therap. 2014 Apr 1;22(1):15.
https://chiropracticscience.com/wp-content/uploads/2016/09/AdobeStock_69723890.jpeg
800
533
Dean Smith, DC, PhD
https://chiropracticscience.com/wp-content/uploads/2017/01/chiroscience-logo-website-title-300x167.jpg
Dean Smith, DC, PhD
2016-09-12 22:38:20
2016-09-12 22:48:02
Back Pain During Pregnancy and Chiropractic Care