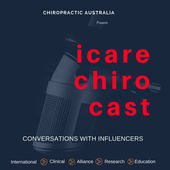 Chiropractic Australia (CA) in association with its educational arm, COCA (Chiropractic & Osteopathic College of Australasia), is proud to announce the launch of the 
icare chirocast 
podcasts
. 
The name "icare" stands for International/Clinical/Alliance/Research/Education.
Developed by Chiropractic Australia in response to the positive momentum developed by evidence based chiropractors on social media, this podcast series will be your opportunity to hear from many of the thought leaders, influencers, regulators and experienced clinicians from the academic and research arenas within the chiropractic profession and broader musculoskeletal healthcare community.
The aim is to draw together these leaders and experts in an informal yet informative "talk show" format to discuss the issues facing contemporary chiropractic practice.
Our hosts for the podcasts are Dr Stephen Perle and Dr Dave Newell, who are well known to many practitioners. Stephen and Dave are excellent communicators and engaging presenters and both have exceptional track records in the academic world and are well versed on the issues facing the profession.
Each podcast will also involve discussion with two guests from the various domains associated with the icare name.
The icare chirocast podcast is now available via:
iTunes:  https://itunes.apple.com/au/podcast/icarechirocast/id1345104836
Spreaker (iOS & Android app):  https://www.spreaker.com/show/icarechirocast
Chiropractic Australia is a not-for-profit, member-based organisation established to promote safe, ethical and effective chiropractic care and to provide high quality vocational and political advocacy for its members. Chiropractic Australia seeks to promote evidence based chiropractic care and inter-professional cooperation in order to improve community health through high quality, patient-focused care.
With a strong commitment to our Mission, Values and Vision, Chiropractic Australia will advocate with the public, government, regulators, third party payers and others to establish Australian chiropractors as the non-surgical spine and musculoskeletal care experts. Membership is open to all chiropractors registered with the Chiropractic Board of Australia (CBA) and to graduates of chiropractic education programs approved by the Council on Chiropractic Education Australasia. Limited membership is also open to students of CBA approved chiropractic education programs.